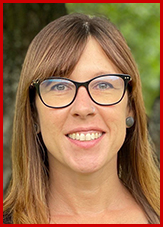 Sherri Varble
Realtor®
423.943.0871
sherrisellsnwa@gmail.com
Sherri is originally from Eastern NC. She moved to Pea Ridge in 2018 with her husband, David, and their two sons, Uriah and Gage. David was in the Air Force for 20 years which led to many opportunities for their family to move around the U.S. and abroad. While her husband was active duty, she attended Kansas State University and majored in dietetics. Sherri also completed her masters degree in Health and Wellness Coaching.
Her interest in real estate sparked when she and David started looking for a home in Pea Ridge and finally getting her real estate license shortly after closing on their home.
Sherri's goal is to work hard and be available to her clients and to do her very best to find the home of their dreams. She wants to make the process of purchasing a home as seamless and rewarding as possible.
In her spare time she enjoys working out and spending time with her friends and family.
Follow Sherri on Facebook at Sherri Varble- Realtor.

Contact her by phone at 423.943.0871, or by email at sherrisellsnwa@gmail.com.

Stop by the office at 372 N Curtis Ave in Pea Ridge anytime, and she will be glad to visit with you!